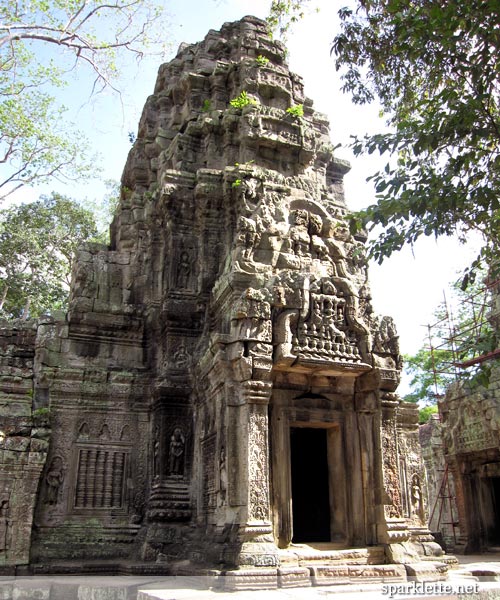 With just a day remaining on our stay in Siem Reap, we knew we had to step up our game and explore as much of it as possible. Having gotten a taste of the Angkor ruins the previous day, we certainly craved for more!
Here's the route we mapped out:
Banteay Srei – "citadel of women", or "citadel of beauty"
Ta Som – small temple that offers fabulous photo opportunities
neak peak – temple on a man-made island
preah khan – huge temple that is almost like a small city
Ta Prohm – the Tomb Raider temple. 'nuff said.
Then in the evening we would hit Pub Street for wining and dining, and catch Manchester United's title-deciding game. Now, that's a fine plan!
With that, we traveled 37 kilometers on a very bumpy dirt road to our first destination — Banteay Srei.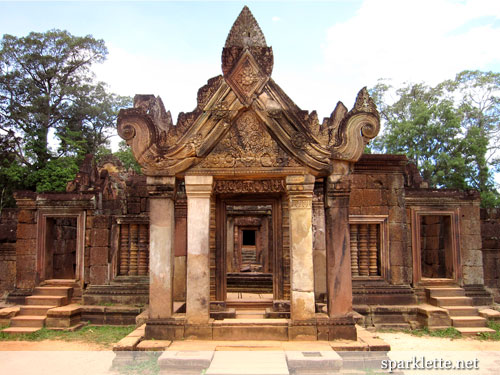 Along the way we passed through long stretches of forested areas and grasslands with cows a-grazing, interrupted only by the occasional small clusters of houses and stalls.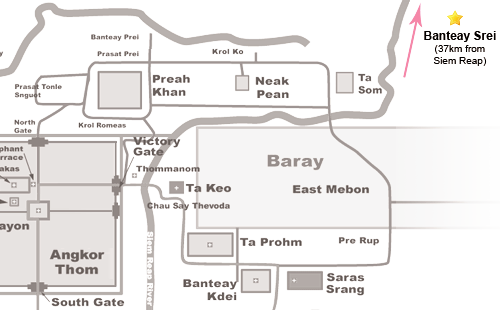 The hour-long journey provided a window into the everyday life in this poorer side of the town. The man resting in his hammock. The mother, draped in only a towel, calling for her children. Cows that were so skinny, their ribs protruded through their skin.
Then there were the children bathing in the river, and in one heartwarming moment waved to us jubilantly as our tuk-tuk whizzed past. The life here may not be lavish, but it sure is idyllic, simple and carefree.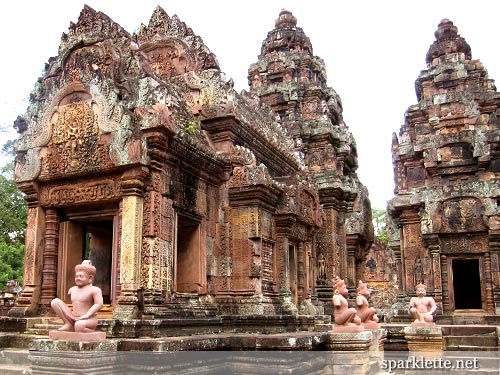 Arriving at Banteay Srei, we were surprised at how small it was. Until then, all the temples we had seen were huge; they made Banteay Srei appear tiny in comparison.
But what allows it to shine among the sea of Angkorian giants is its colors and the exquisite beauty of its wall carvings.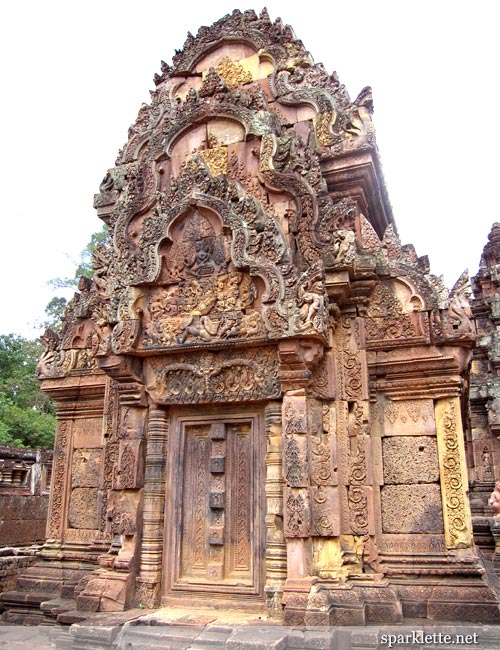 Literally every available surface has been carved with intricate details. How remarkable!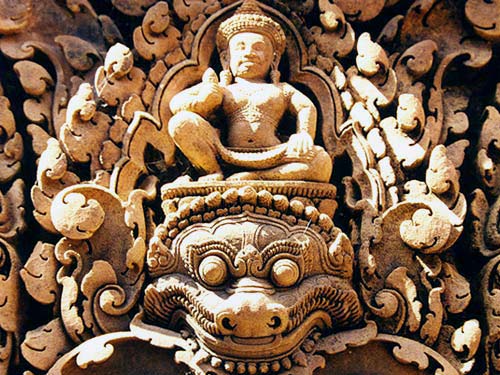 Banteay srei was constructed in 967 A.D., which means it is one of the oldest standing temples in the ruins of Angkor!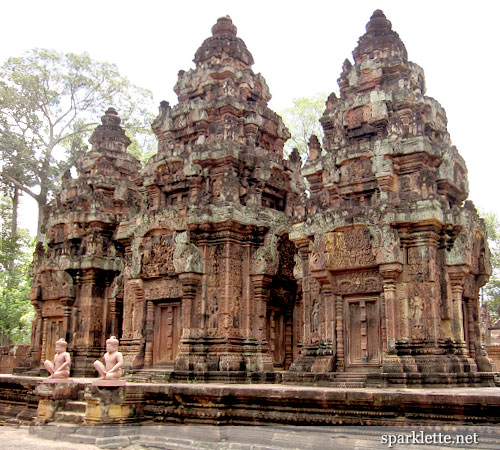 The temple is built with red sandstone that gives it its beautiful pinkish hues. The name "citadel of beauty" is indeed well-coined! In my opinion, this is the prettiest temple we've seen in Angkor.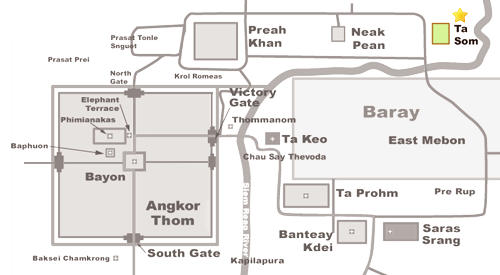 Our next stop was Ta Som, a 12th century temple that appeared to be falling apart at the seams. Wooden beams had to be propped up against the walls to lend support.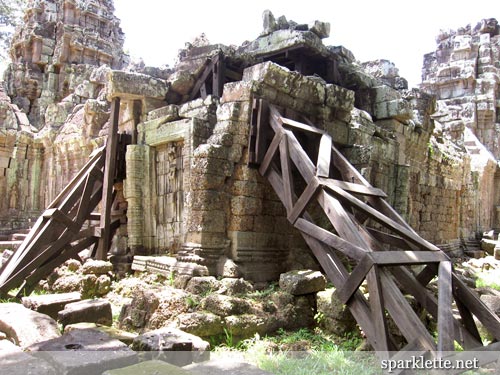 The temple also offers very classic photo opportunities that more than make up for its small size. It didn't take long before we found them.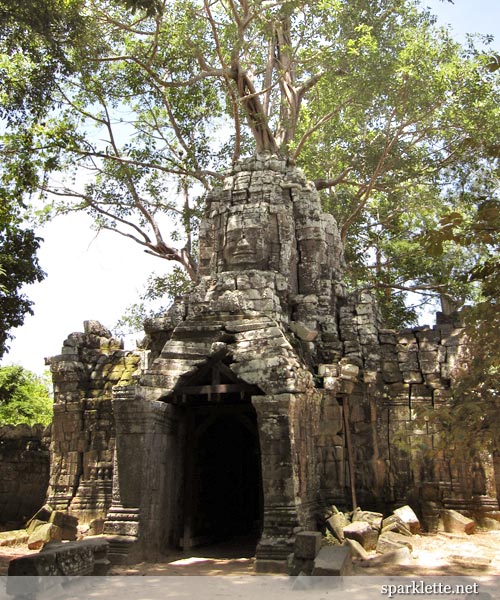 One of the entrance gates is carved with four faces, similar to those we saw at the
bayon
. But the most exciting part is actually this: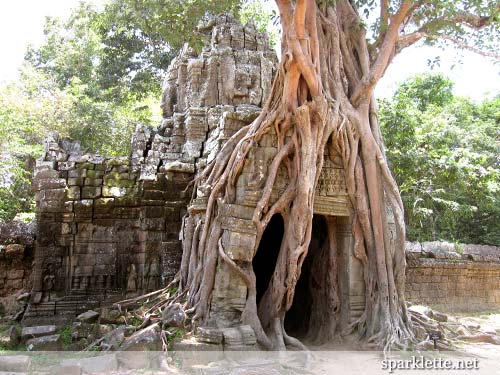 A whole ficus tree growing on the roof, with roots cradling the temple before finally reaching the ground! How long would it last before the temple collapses under the weight of that massive tree? It serves as a grim reminder that we can only borrow from the earth for so long. Eventually, everything returns to earth.
Youtube link
Here's a rather shoddy video that I took of this incredible sight, too. It's a little bumpy as I was trying not to stumble over the rocks.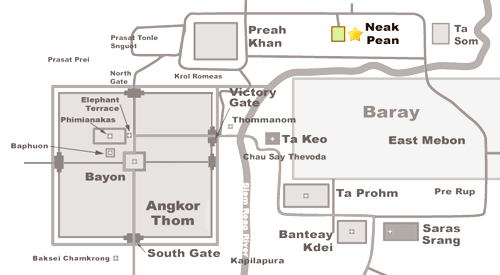 Following in the shadow of two amazing temples, neak pean, our next stop, appeared dull in comparison.
Vehicles were not allowed to be driven in. We had to walk a long way on foot before finally arriving at this dreary sight:
The small temple was built on a round artificial island, surrounded by four connected ponds representing earth, water, fire and wind. Unfortunately the ponds had all dried up.
Unless those pools are filled with water, this is one place I wouldn't recommend visiting. There really isn't much to see! Our time would be better spent at the next temple — the nearby preah khan.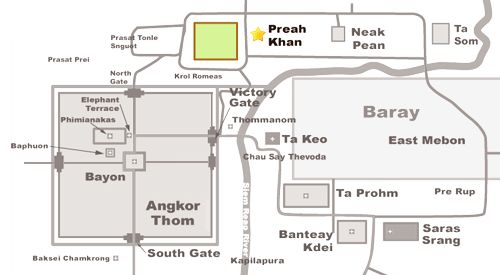 Preah khan is one mega-temple that is super big, and with much to see!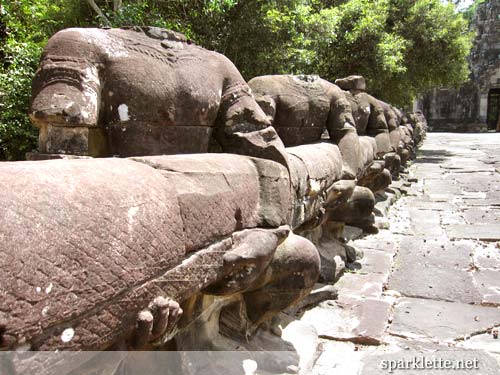 Surrounded by a moat, the way into the temple grounds is via a causeway, lined by naga-carrying deities on either side.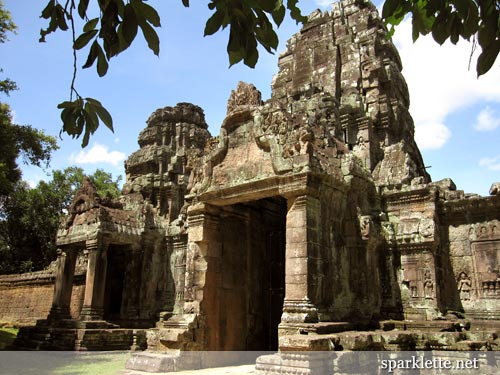 Preah khan, whose name means "sacred sword", was built in 1191 A.D.. The king jayavarman VII dedicated it to his father. (he also dedicated a great temple to his mother. And we visited it once we're done with this one.)
During the reconstruction of his permanent home in Angkor Thom, the king lived in preah khan briefly.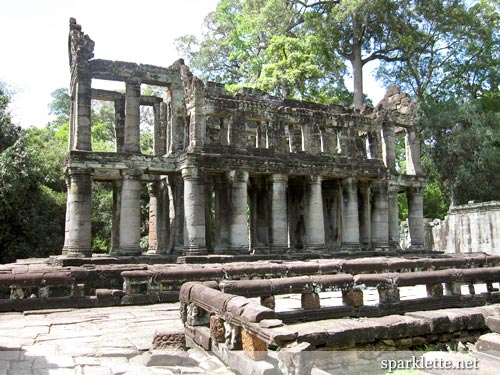 The temple also functioned as a Buddhist university. In its heyday, there were 97,840 attendants and servants, including 1000 dancers and 1000 teachers!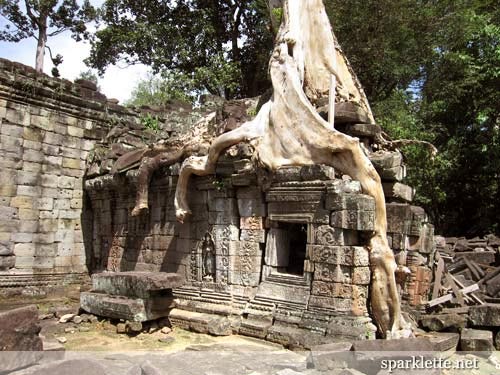 Back then, this wealthy institution must have been a marvelous sight. Sadly, it's overrun with vegetation today. Now, what is it with all these trees growing in odd places?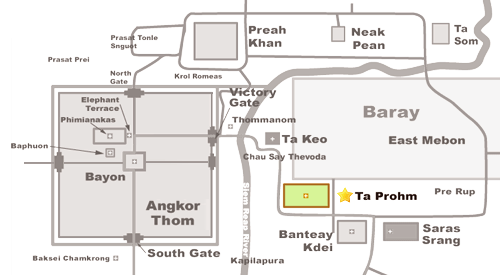 Our precious last hour in Angkor had been reserved for Ta Prohm, famously known as the Tomb Raider temple. Yes, that's the Angelina Jolie movie :)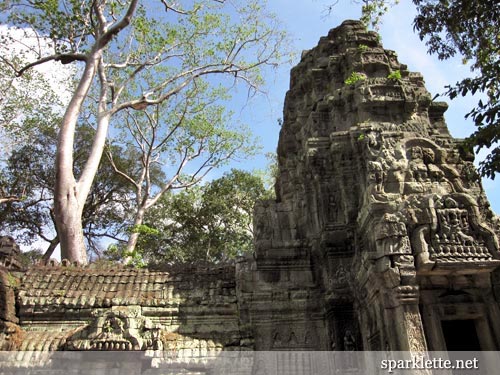 The king founded the temple in 1186 A.D. And dedicated it to his mother. Like preah khan, this was a site of vast riches.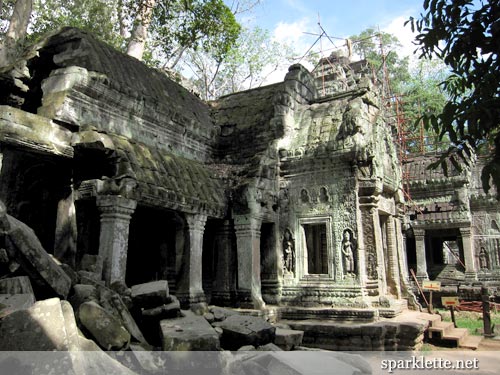 According to inscriptions, more than 12,500 people, including 18 high priests and 615 dancers, lived here.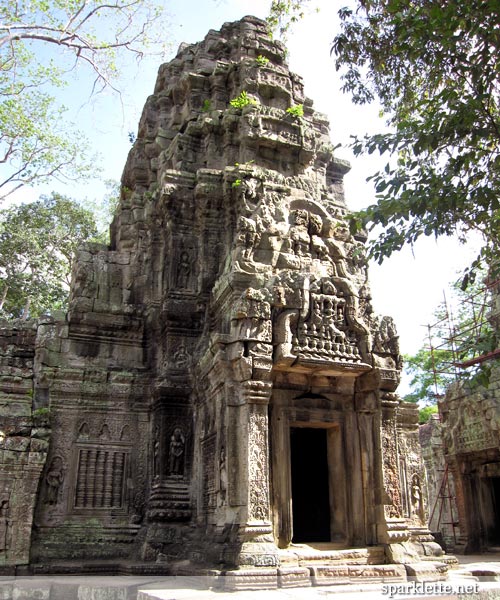 When the Khmer empire collapsed in the 15th century, Ta Prohm was left in a state of abandonment for centuries. CENTURIES! I wonder how the person, whoever he was, felt when he discovered it after so long.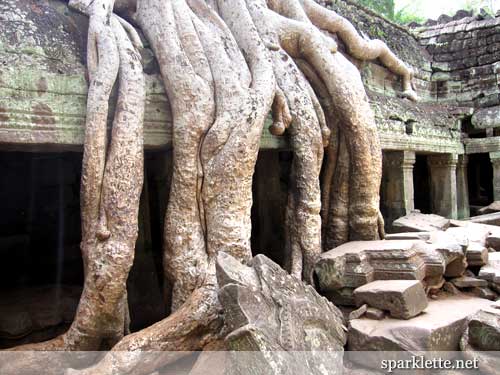 Roots of tall silk-cotton trees can be seen snaking through the ruins and hugging different parts of the temple.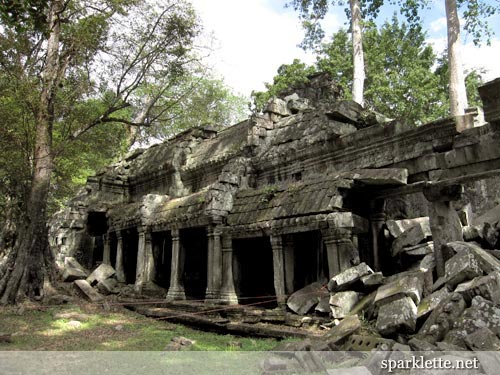 I didn't notice any sign that Tomb Raider was ever filmed here. Well, I don't actually know what I was looking for. But with so much of it in a collapsed state, it's hard to believe that this place had once been the filming location of a big hollywood movie.
(I'll recap in my final Siem Reap post on which temples are the must-visits. This is one of them.)
With that, we said our last goodbyes to the ancient city of Angkor. It's time for some r&r at Pub Street!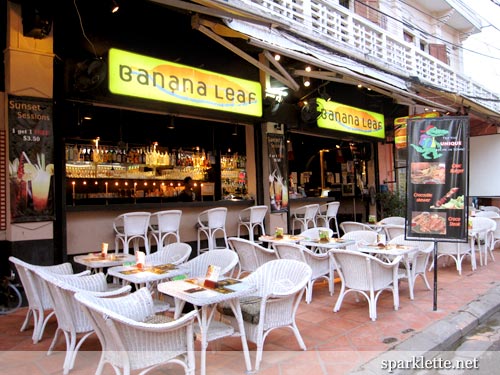 The night before, we had already set our eyes on banana leaf pub. We were attracted by the alfresco dining, and their big projector screen that screen live soccer matches!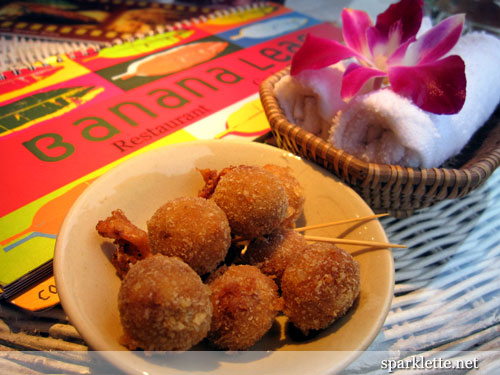 The waiters were friendly and super attentive. We were handed wet towels, and cute little skewers of chicken balls to snack on! Don't they look like the Japanese's
dango
?
That totally set us in the mood for meat skewers.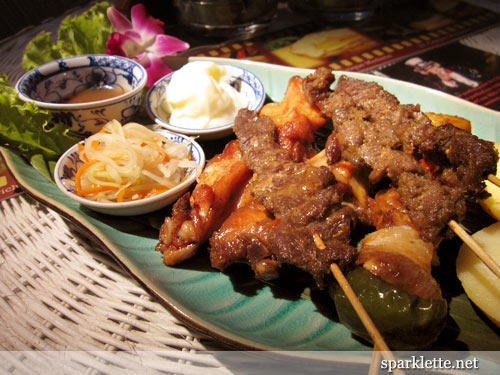 The first thing we went for were the assorted meat skewers. While the restaurant boasts of exotic crocodile meat, we made sure our skewers were the conventional chicken and beef types. They were great! The accompaniment of the mayonnaise was a tad weird though.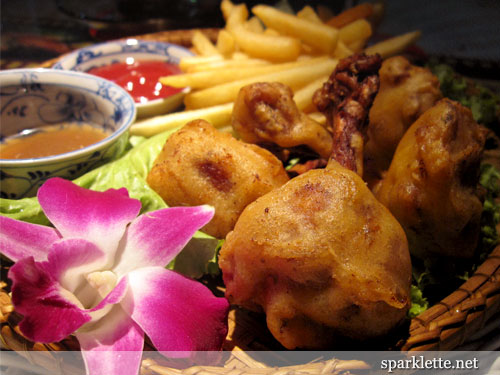 When catching a live game, it should be enjoyed with drinks and bar-type food like chips and, of course, chicken wings! I like that the meat had been "pushed upward" so that they went off the bones easily. They may look less pretty, but I'm all for hassle-free dining.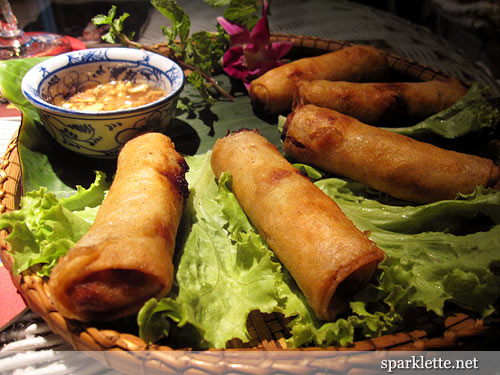 The fried spring rolls were very nice too.
At the sign of the first raindrops, the waiters hurriedly extended the roof so that we wouldn't get wet. By the time it started pouring, we were kept completely dry, and thanked our lucky stars that it didn't rain while we were traipsing through the ruins.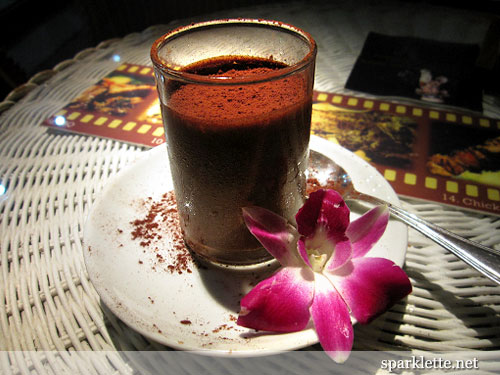 So finally, and I mean FINALLY, the match ended and the Premier League 2008/09 champion was decided! Glory glory man united! We celebrated with some chocolate mousse! Life's great!
With all of that and the chocolate and the wine, it was a wonderful way of ending a fantastic day, and trip overall. We were due to fly home in the early morning.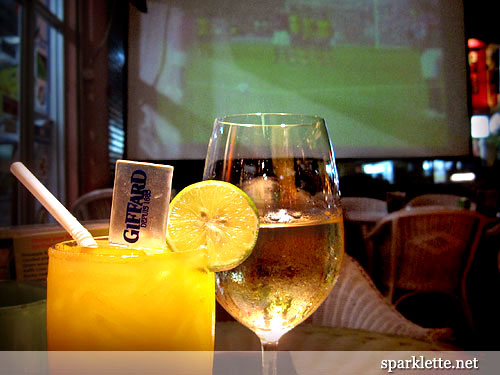 15 - 18 Dec 09
We arrived in Cambodia- great flight. Gary left wallet on plane for fun...scary but in the end, non eventful. The Victoria hotel was amazing- obvious colonial influence and the staff can't do enough for you. They smile constantly...must get sick of pleasing us foreigners!!
Started the day with a swim and Helen got an hour foot massage by the pool as she sipped a coconut milkshake. (From a coconut, of course)
Went to Ta Prohm Temple (tomb raider was filmed here) and it is breathtaking. Tree roots grow from walls and we ended up being personally guided around by a Cambodian policeman. I wonder if that was because Dad and Gary climbed up on a fragile piece of wall for that 'great shot'!!! Dad scraped his leg and bled everywhere and we ended up with a lovely guide!! (We bribed him with a koala keyring and made his day!)
Unfortunately, Hel and Hilt's camera dropped to the ground and broke...very sad
Fried Tarantulas- yuk!
.
Then we went to the Old Markets and saw unbelievable sights- deep fried tarantulas, grasshoppers and cockroaches, meat rotting in hot temperatures with maggots and cockroaches crawling over it and stinky animal intestines!
Later, we went to a cultural show and buffet dinner- an OK experience...tunes seem to be all the same.
Next day we started with a fabulous breakfast and then went to Angkor Thom (another temple). On the way, we stopped and fed monkeys bananas and Lotus fruit on the side of the road- very cute. We rode elephants all around the border of the temple- a perfect setting! We hired a guide for the day and he explained the story behind the temple. It had huge heads and statues of Gods and Demons. Then we went to another market (much cleaner) and spent the afternoon by the pool at the hotel. Later we went on a boatride and watched the sun set on a big Tonle Sap lake. This was amazing and we had children (6 or 7yrs old) zooming up in speedboats, leaping on our boat to sell us cold drinks. If that didn't work, they whipped out a snake and placed it round their neck, asking for $1 for a photo...out of this world!
We had a traditional dinner (Khmer) which was delicious and we topped off our day in the best way possible- we found out that Scott and Carrie are having a baby boy- Cooper John Townsend!!
Ta Prohm (tomb raider)
! We are all SO excited!!!
Hilton's Blog:

Arrived at Hotel and met by staff with cold towel and iced drinks. Sat around pool & had bacardi gold and coke with black peppered fried banana chips (complimentary) as nibbles. Helen has been 1 hr getting a foot massage. Went to Old Markets, where locals shop. Well you should have seen the meat, the blood, the stink, the fish. Not to mention the fried cockroaches, spiders, grasshoppers...Got a couple of t-shirts at markets and we headed home by motorised rickshaw. Then off to the 'Tomb Raider' temple, Ta Prohm. Fantastic place. We were befriended by a policeman who acted as our tour guide. He has worked there for 10 years. Massive figs growing out of the walls- most of the trees over 400 yrs old. Angelina Jolie has really put them on the world map.
Next day went to Angkor Thom, Bayon Temple, with our guide Sokha (a real nice, friendly chap) and driver (a stern, unfriendly fellow is he). Lovely place. It has 47 towers with the 4 faces on each side- one for every province of old Cambodia. Only about 23 provinces left now- the rest has been taken by neighbouring countries. Rode elephants and walked around temple. It got very hot at some point and we had a bit of a rest in the shade while our guide doubled back to the car to get the water we forgot. When he got back, Helen said, "Well we have all had a nice rest, too bad you haven't. Oh well, let's go." It came out so bad. We all commented and said "Good one Bett!" She was horrified as she didn't mean it to come out that way. We bought fruit from the local kids ($1) to feed monkeys. It consisted of small lady finger bananas and lotus fruit. Later, bought a pair on Raybans at market for $3.